In the early thirties, a few hams from Chautauqua County joined together and had regular meetings at the Dunkirk Airport. These fellows went on to form the Northern Chautauqua Amateur Radio Club. Papers of Incorporation were completed and recorded on June 20, 1956. The club has never been without membership or officers since its inception in the 1930's! The NCARC has always been highly active in emergency communications services and in the 1990's put a VHF repeater in operation to help support emergency communications within Chautauqua County. A couple years later a 70cm (440mhz) repeater was established. See the repeater section for more history on the repeaters.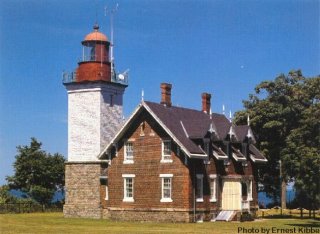 Soon after the Gratiot Point Lighthouse was deeded over to the City of Dunkirk, by the the US Coast Guard, NCARC made arrangements to hold its meetings and operate an amateur radio station there (lighthouse pictured above). This was enjoyed for years until the facility was sold to a private corporation.
The original club call sign was K2PCQ and remained so until changed to W2SB in memory of Al Barris, a charter member and original holder of that call. Below are pictured two QSL cards, one being the "official club QSL (no longer used) and the other, of Al Barris (SK), whose call sign is now licenced to NCARC.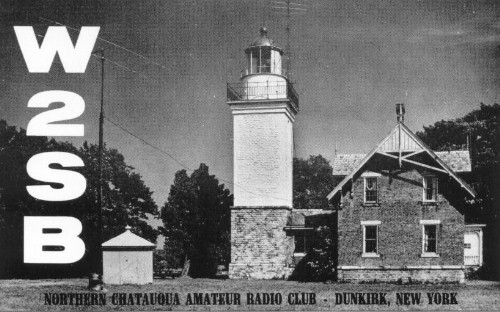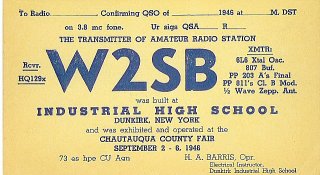 In 2006, NCARC did a major upgrade to the VHF system which included, new radios, coax, duplexer cans, controller, band filter, 60 Amp Power Supply and new antenna system. This replaced the old and tired system that had served us for several years, but was in need of replacement. This made the Club Trustees job alot easier!
NCARC now holds meetings at the Salvation Army, 704 Central Ave., in Dunkirk on the 3rd Thursday of every month at 7:30 P.M. This is also the location of the NCARC/W2SB Club Station. NCARD also has a weekly net via VHF on the 146.625 Mhz repeater. We continue to further the causes of the Amateur Radio Service in Chautauqua County through Education, Exams, Training, Emergency Communications and Public Service events. The Constitution of NCARC can be read HERE NCARC CONSTITUTION
Members, non members and even non amateurs are welcome to join us at any of our events or meetings. Come see what Amateur Radio is all about and learn more about the members of NCARC.




Printable NCARC Membership application
Annual Membership Dues: $25.00 (first year of membership is FREE)
Family Member: $1.00 for each additional member of the family.